Customer segment catalog
TATRA manufactures firefighting and rescue vehicles by reconstructing particular models of the TERRN°1 civilian range and of the T 815-7 special standardized range.

Built your own TATRA truck exactly according to your wishes, type of operation and business. It's easy. Just answer five simple questions.
Trucks available immediately

TATRA vehicle design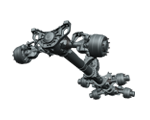 TATRA offers a unique chassis design which originated in the 1920s and has not yet been rivaled.